An exceptional machine from our line of rotary surface grinders. The IG280SD is designed with glass, ceramic, carbide and crystal fabrication in mind.  It can be used in any low, mid or high volume applications.  The programmable control saves grind parameters by part number for repeatable process automation. The servo driven Z-axis delivers true feed rates and repeatable positioning.  An electromagnetic rotary chuck with electronic sensed demag is standard while optional configurations may include mechanical, vacuum, pneumatic or hydraulic work-piece fixturing.
Machine Specifications
24″ variable speed table
20HP Variable speed grinding spindle motor
Electromatic chuck with auto demag cycle which can be configured with custom workholding systems
Thru-spindle vacuum/pressure feed
Integral air mist collection and coolant flow systems for clean consistent grinding
Programmable touch screen controls
Manual handwheel for precise Z-axis positioning
Internal memory for saving grind process recipes for quick changeovers
Password protection and operator lock-out features
Automatic routine maintenance reminders
76″ x 64″ Footprint
Countless customization options supported by an in-house engineering team ready to build the perfect machine for your application!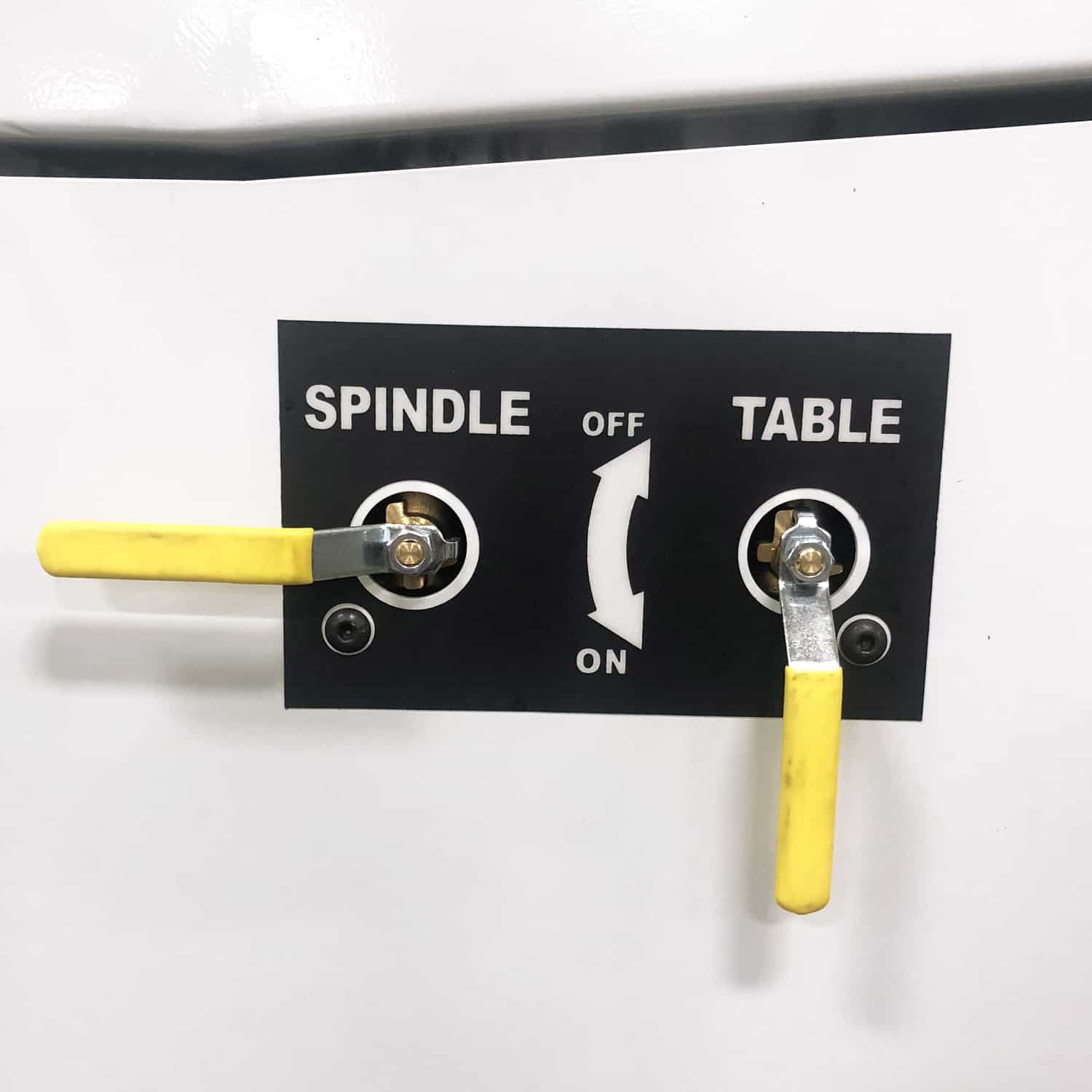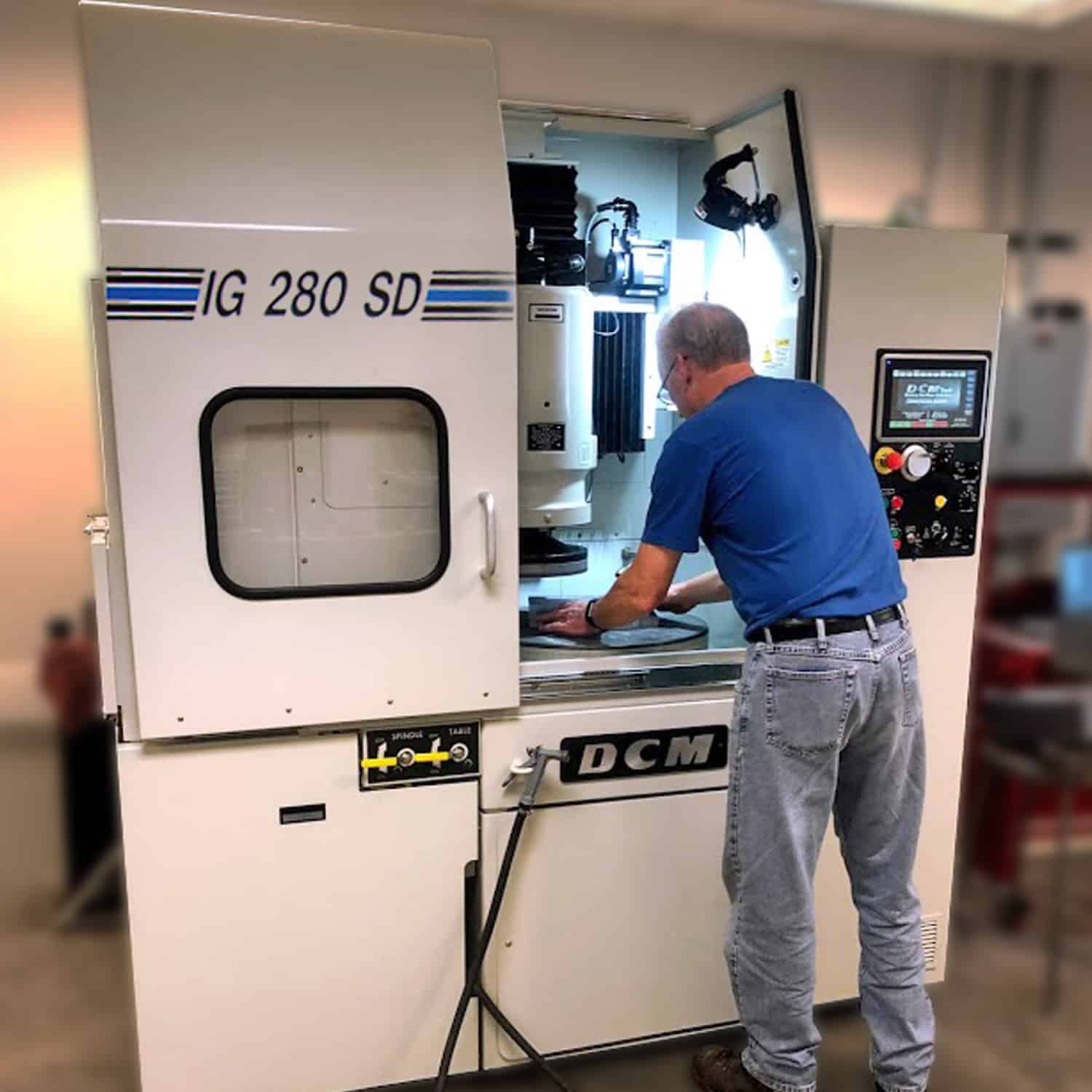 Grinding Applications
DCM grinders outperform conventional surface grinders and are efficient for removing large amounts of material, while maintaining close tolerances and reducing process time. Features such as variable feedrate & spindle speed, single or multi-step grinding, and easily programmable grind processes make this machine an ideal platform for processing a wide range of materials.
Materials
Ceramics

Silicon Nitride, Zirconia, Alumina, Carbide, Silicon carbide (SiC), Tungsten, and other compounded materials

Carbide
Ceramic
Copper
Aluminum
Cast Iron
Nitrided Steel
Crystalline Materials

Quartz, Fused Silica, Glass, Sapphire, Zinc Selenide, Zerodur, Silicon

Tool Steel
Titanium
Neodymium
Ferrite
Composites
Applications
Fixture & die preparation
Grinding glass plates to thickness
Crystal grinding
Solenoids
Silicon plates, ceramics, glass, and sapphire
Regrinding bearing surfaces
Grind prep before lapping & polishing processes
Have more questions or want to talk more about your specific application? Get in touch with our team of Technical Specialists today!
or
Give us a call: (800)533-5339
Why Choose DCM?
Before you decide, our Engineers will validate the performance of any DCM style grinder on your specific material. We invite you to send us a sample of your material or come visit our factory to run the machine and see the results firsthand.
After you purchase, a Technical Specialist from DCM will come to your facility to set up the machine and train your technical staff and machine operators.
As a DCM customer, you can count on the full support off our Technical Specialists and Enigneers when you need it. If you have any questions our reliable team will make sure you get the answers you need, when you need them.
Built by experts, for experts.
Check Out Our Full Line of DCM Style Rotary Surface Grinders