PDG Punch and Die Grinder
A Rotary Table Surface Grinder that sharpens  any style turret tool and small punch press tools with ease and automation. Optional features make it ideal for the toolroom also.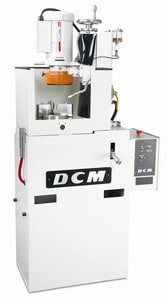 The MINI Punch and Die Grinder is ideal for use in cells (110V compatiable) with turret presses and is an efficient and economical solution for sharpening turret and punch press tooling. It uses vertical spindle rotary table grinding action, coupled with a CBN superabrasive grinding wheel to sharpen tools. Manual feed, simple to operate.