DCM-Tech has over 40 years of experience in the design and manufacture of rotary surface grinders. DCM style surface grinding is similar to that of the Bourn & Koch Blanchard® grinder. If you are in need of a rotary grinder for production, job shop, or lab use, consider a new DCM machine. Our rotary surface grinders have evolved by meeting the needs of customers in fields as diverse as electronics, aerospace, photonics, and metalworking. Our made in USA machines are utilized in production and maintenance of tooling, bearing parts, seals, spacers, pump components, motor parts, aircraft and automotive brake rotors, carbide tooling, prisms, lenses, wafers, windows, metrology part prep and much, much more. We sell and service factory direct worldwide.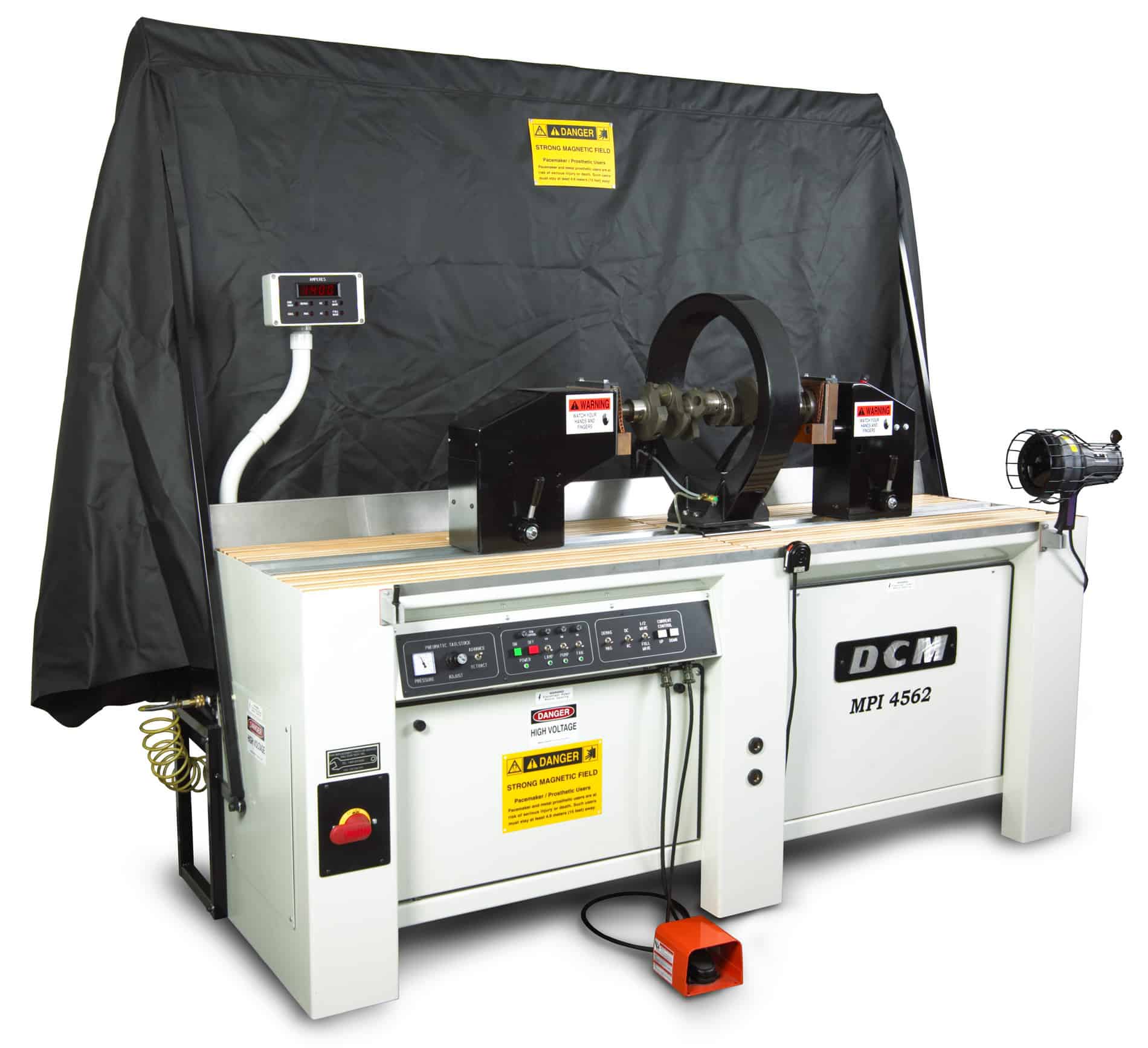 A comprehensive selection of Magnetic Particle Inspection machines for non destructive testing ( NDT ) are available from DCM Tech. The MPI 2400 is a basic horizontal magnetic particle inspection machine with a swivel coil and external prods, providing economical flaw detection. The MPI 3062 series of magnetic particle inspection units offer enhanced features with head and coil shot, pneumatic tailstock, and increased capacity. Length options from 62″ to 100″ make this machine the Heavy Duty shop choice. The MPI4562 has DC current capabilities for testing aircraft components, performance crankshafts and critical parts where subsurface flaw detection is required. The MPI4562 is ideally suited for NDT work in aircraft and aerospace applications, where DC inspection is mandated.
DCM Tech has been synonymous with flywheel grinders, automotive surfacers, magnetic particle inspection equipment, and most recently, brake rotor grinders. DCM Tech's quality, durability, and precision for automotive and heavy-duty re-manufacturing operations is unsurpassed. Inspection, cylinder head rebuilding, block machining, flywheel grinding and clutch remanufacturing are just a few of the operations performed by the DCM Tech line of automotive rebuilding equipment. Whether you are the neighborhood automotive machine shop, a performance engine builder, or a Nascar race team, there is a place in your shop for DCM Tech automotive rebuilding products and supplies.
DCM Tech's automotive rebuilding products are manufactured in Winona, Minnesota and sold direct and by select independent distributors.