PDG Punch and Die Grinder
The Punch and Die Grinder (PDG), a Rotary Table Surface Grinder, is primarily dedicated to the sharpening of turret press tooling, but also includes the sharpening of rooftop punches and small progressive die details. DCM Tech's Punch and Die Grinder is a turnkey package with autofeed control, self dressing CBN abrasives, through spindle coolant and universal fixturing that accepts Amada, Trumpf, Salvagnini, Finnpower, Weideman, Whitney, and other style tooling. Sharpen large station dies and rooftop/shear angle tooling up to 10 degrees with the standard fixturing package. Typical grind time is less than 5 minutes.
Look to the PDG Punch and Die Grinder for:
Reduced replacement tooling costs by as much as 40%
Reduced or eliminate deburring operations
Gained labor efficiencies
Payback period as soon as one year
View Alternate Machine Selections:
Grinding Applications:
Sharpen Turret Press Tooling
Regrind Carbide Pump Seals
Grind Carbide Tooling
Sharpen Ironworker Tooling
Sharpen Rooftop Punches
Sharpen Progressive Dies
Regrind Dies Sets
Debur Stripper Plates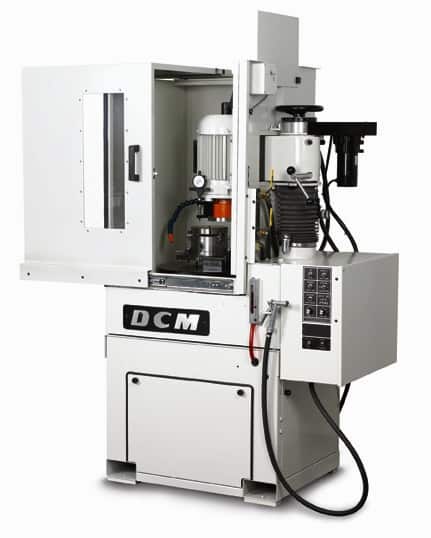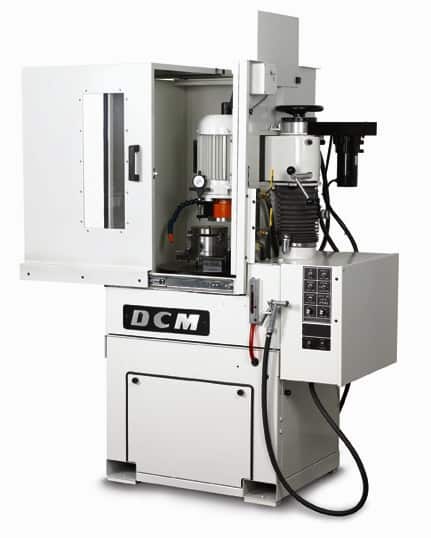 Standard Abrasive:
20-08238-070-80, 6″dia. Self-Dressing CBN Straight Wheel
Provides aggressive material removal rates and a high-quality surface finish
Machine Specifications
5 hp Grinding Spindle Motor
Universal Fixturing with Interchangeable 3 Jaw Chuck and Optional Permanent Magnet
Autofeed Control
18″ Rotary Table
15 Gallon Recirculating Coolant System w/Basket Style Coolant Filtration
Dimensions 26″ x 30″ x 60″
Weight 1500 lbs
CE Mark PDG Available
MINI Punch and Die Grinder
The MINI Punch and Die Grinder (rotary table surface grinder) is an ideal addition to turret and punch press cells for in-cell tooling maintenance with 110V or 220V 1-phase power service. Re-grinding of punches and dies by the cell operator is simple, quick, and easy. The MINI uses vertical spindle rotary table grinding action, coupled with a CBN superabrasive grinding wheel to sharpen tools to "as new" condition and performance. It is sold as a complete package with manual feed control, coolant system, self dressing CBN grinding wheel and a universal fixture that accepts Amada, Trumpf, Strippit, Finnpower, Weideman, Whitney, and other style punches and dies. An optional angle fixture is available for rooftop and shear angle type tooling. An optional center mount magnetic chuck, and a variety of abrasive options are also available for alternate applications.
Look to the MINI (PDG) Punch and Die Grinder for:
Gain labor efficiencies – less downtime, less waiting
Replacement tool cost reduction by as much as 40%
Reduce or eliminate deburring operations
Individual cell affordability
Short payback time
Machine Specifications
Standard 110V, 1-Phase -or- Optional 208V, 1-Phase
Cast iron base
Rigid z-axis column with dovetail ways
Accepts 6″ diameter grinding wheel
Recirculating coolant system with paper filter media
Standard 3 jaw chuck workholding fixture
Optional fixturing for angled tool sharpening
1-1/2 HP 3600 RPM Grinding Spindle Motor
Powered Rotary Table
Dimensions 33″ x 17″ x 60″
Weight 800 lbs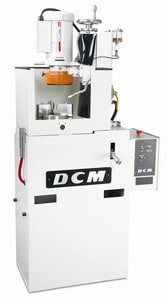 View Alternate Machine Selections:
Grinding Applications:
Sharpen Turret Press Tooling
Sharpen Ironworker Tooling
Sharpen Rooftop Punches
Sharpen Progressive Dies
Regrind Dies Sets
Debur Stripper Plates