IG 140 SD Rotary Surface Grinder
DCM Tech's IG 140 SD rotary surface grinding machine fills some big shoes but with a small footprint. It has a 32″ x 26″ footprint and a 56″ x 26″ operating envelope. This rotary surface grinding equipment uses minimal shop space. Operating parameters are fully programmable for processing alloy, ceramic, and crystalline materials.
The 12″ rotary table can be configured to accommodate a variety of vacuum, hydraulic, or magnetic production work holding systems. Mechanical design features include servo-driven precision ball screw feed, enclosed dovetail ways, cast iron machine foundation, and a precision cartridge spindle with 5hp variable speed drive.
More Rotary Surface Grinder Videos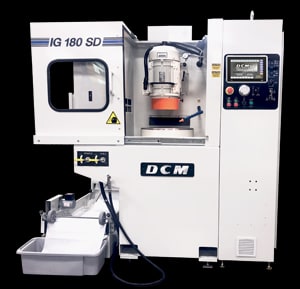 IG 180 SD Rotary Surface Grinder
IG280SD Rotary Surface Grinder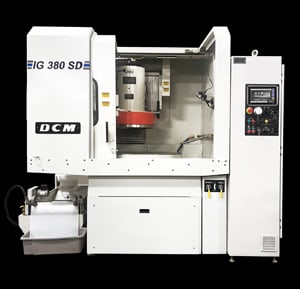 IG 380 SD Rotary Surface Grinder
IG 480 SD Rotary Surface Grinder RETURN TO VIDEO LIBRARY